03-02-2023: Governor Hari Babu Kambhampati visits Khawzawl District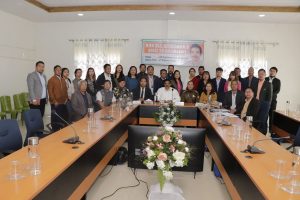 Khawzawl, the 3rd February 2023: Governor Hari Babu Kambhampati arrived at Khawzawl town yesterday evening for his first official trip to Khawzawl District. This forenoon, he had an interaction with the head of offices in the District at DC's Conference Hall, Khawzawl DC Complex. After the interaction with the officials and the bankers, Governor had interviews with the leaders of the Church organizations, NGOs, and Political Parties. He also visited the beneficiaries of centrally sponsored welfare schemes in the last segment of his official engagements in the district capital.
The official function at DC's Conference Hall, Champhai began with a welcome address by Pu C C.Lalchhuangkima, Deputy Commissioner of Khawzawl District. After a self-introduction from the district head of offices, Pu Lalchhawnthanga, Superintendent of Police, Khawzawl District gave a presentation on the Security Scenarios of Khawzawl District. This was followed by a PowerPoint presentation on the Khawzawl District profile by Pu C.C.Lalchhuangkima, Deputy Commissioner.
Governor Hari Babu Kambhampati thanked the Deputy Commissioner and the Superintendent of Police for detailed presentations on the district profile and the security scenarios. He shared his appreciation that Khawzawl District, even a relatively new district shown progress and improvement in many sectors. He also felt the district due to its topography, soil profile, and conducive climate has the potential to do well in agriculture and horticulture.
He also added the existence of culturally important locations of historic importance and scenic beauty needed to be explored to develop tourism in the district. He advised the concerned officials to encourage the increase of activities of the Self Help Groups(SHGs) with a special focus on women. He urged all the heads of offices to continue performing to achieve targets set for them.
He also insisted that the officials needed to expedite completion of projects in a stipulated time frame. He insisted that delay due to unforeseen circumstances is not an excuse. He suggested that the challenge in implementing projects in Mizoram should be overcome when the executing officials and contractors try to foresee what should be done with a shorter working season in Mizoram and to come up with solutions. He explained that any delay in these kinds of projects blocked the initiation of new projects which in turn deprived the beneficiaries. He appealed to all the district officials to try harder to ensure that maximum benefits reached the maximum number of beneficiaries.
Governor also informed the officials and bankers that generally people in the states are unaware of various central welfare and social security schemes. He pointed out that the beneficiaries in Mizoram are denied of these benefits due to lack of awareness. He suggested that awareness on schemes like Pradhan Mantri Jeevan Jyoti Bima Yojana(PMJJBY, Pradhan Mantri Suraksha Bima Yojana(PMSBY, Life Cover under Pradhan Mantri Jan Dhan Yojana (PMJDY), etc., must be elaborated to each and every saving bank account holders. He also urged the bankers and bank officials to increase their awareness campaign on various social security schemes that are available for subscription at a very low sum of money.
Pu Lalchhawnthanga, SP, Khawzawl District, in his presentation apprised the Governor of largely calm and peaceful situations in the district about law and order issues. He depicted the main role played by the police personnel in maintaining a peaceful environment within the district. He displayed the statistics relating to the smuggling of dry areca nuts and other contraband. He also gave a brief report on matters concerning Myanmar refugees within the district.
Pu C.C. Lalchhuangkima, DC, Khawzawl District gave a detailed presentation on the district profile. The presentation focused on the salient features of the district, the progress reports of important departments implementing centrally sponsored schemes, and the potential of the district in important sectors. The report by DC, Khawzawl highlighted the progress of implementation of important schemes such as Jal Jeevan Mission, PMAY, SPMRM, ICDS, MGNREGS, MZSRLM, SASCI, SBM, PMGSY, etc. He also apprised the Governor of the initiatives under primary sectors such as Health, Education, Agriculture – Horticulture, and other development departments, especially those that received central funding. DC Khawzawl also gave a special report on initiatives like Solar Water Pump projects and the progress of the 20 MW Vankal Solar Park.
The Deputy Commissioner of Khawzawl District proudly mentioned that Khawzawl secured 1st position in the cleanliness competition 2022-23 under the category District headquarters. He also mentioned that Khawzawl Dinthar also bagged 1st position in the cleanliness competition 2022-23 under the category Village in the District Hqrs.
Khawzawl District is one of the three youngest Districts in the State of Mizoram. It was created on August 12th, 2019. The district is bounded on the North by Saitual District and the East by the Champhai district, and on the Western side by Serchhip & Saitual district. The total geographical area of the Khawzawl district is about 1164.93 sq. km. There are 38 Village Councils in a total number of 26 villages within the District. According to the 2011 census, the total population of the Khawzawl district is 36,381, out of which 18,447 are male and 17,934 are female. As of April 1st, 2021, the Literacy percentage within the district is 96.64% (Male – 97.39%, Female – 95.86%).
The interaction program with the district officials concluded with a vote of thanks proposed by Pu C.C. Lalchhuangkima, Deputy Commissioner, Khawzawl.
Written by: Malsawmsanga, MIS, PRO to Governor
Governor Hari Babu Kambhampati in Khawzawl District a tlawh (Mizo)
Khawzawl, the 3rd February, 2023: Zan khat riaka Khawzawl District tlawhtu Governor Dr. Hari Babu Kambhampati chuan vawiin zing dar 9:45 atang khan DC Conference Hall-ah Head of Office-te, Bank hotute, Political party hruaitute, Kohhran hruaitute leh tlawmngai pawl hruaitute kawmna hun a hmang a, hemi hnu hian PMAY (Urban) hamthatna dawngtu tlawhin a kawm bawk.
He hunah hian Khawzawl District Bawrhsap Pu C.C. Lalchhuangkima chuan District mipuite aiawhin Governor Dr. Hari Babu Kambhampati lawmna thu a sawi a; Khawzawl District chanchin kimchang, Centrally Sponsored Scheme kalpui meka hmasawnnate, hmalakna kal mekte leh hmachhawpte powerpoint presentation hmangin a tarlang nghal bawk a. Hemi hnu hian Pu Lalchhawnthanga, Superintendent of Police-in Khawzawl District venhimna kawnga police hnathawhte bakah dan leh thupek kenkawh kawnga District dinhmunte powerpoint presentation hmangin a sawifiah.
Governor Hari Babu Kambhampati chuan Khawzawl District chu District naupang tak a ni chungin kawng tinrengah hma a sawn niin a hriat thu a sawi a ni. Faina chungchangah midangte entawn an ni mek chu chhuanawm a tih thu a sawi a. Agriculture leh Horticulture huanga hmalakna te leh Nizung chakna hmanga Kawlphetha siam chhuah hna buaipui mek te chu tha a tih thu a sawi bawk.
Governor chuan kawngpui lai leh hmasawnna ruhrel khawih mek te chu a hun takah thawh zawh a pawimawh a ti a. Project pakhat thawh rei lutuk avangin project tha tak tak tam tak Kan chan thei a. Hetiang thil kan tih fo beneficiary te chanvo Kan hup bet tih Kan hriat a ngai a ti. Mizoramah hnathawh hunchhung a tawi tih hi Kan hriat na a rei tawh a, he thil in bumro tir loh dan zawng si lo a, chhuan lam atan kan hman reng hi a fuh lo a, hmasawnna kawngah hei hi thanmawh bawk a ni a ti.
Governor chuan beneficiary Tam thei ang berin an dawn tur a tam thei ang ber an dawn theih na tura tan la chhunzawm turin Sawrkar hnathawk te chu a fuih a. RD leh development department danga hmalaknaah Self Help Groups (SHGs) a tam thei ang ber siam a, kaihruai turin thawktute a fuih a. Hmeichhia te duhsak a, a hmasawnna tur te scheme hrang hrangah ngaihtuah Turin a chah bawk.
Kawlphetha mamawhna a san a vangin Nizung chakna ringa Kawlphetha siamchhuah lamah mipui zirtirna pek tam a ngai a ti a. Solor rooftop – on grid chungchang leh a thatna te mipui hnenah zirtirna nasa zawka pek a ngai a ti.
Mizoramah Central Sawrkar atanga dawn theih Scheme tha tak tak te leh vanduaina tawh thulh a lukhawng nei ang chi te mipui ten an la hre mang lo a. Heng hi bank hnathawk leh Sawrkar hnathawk ten a theih anga tamin mipui hnenah zirtirna an pek a ngai a ti. Scheme tha tak – Pradhan Mantri Jeevan Jyoti Bima Yojana(PMJJBY, Pradhan Mantri Suraksha Bima Yojana(PMSBY, Life Cover under Pradhan Mantri Jan Dhan Yojana (PMJDY), etc., chungchang te hi Saving Bank Account nei chauh lo te tan pawh an hriat vek a ngai a ti a. Vanduaina tawk thei vek kan nih avang heng scheme tha tak Kan chhungte leh keimahni in kan dawn theihah te hian kan in ziahluh vek a tha hle a ni a ti.
District Bawrhsap Pu C.C. Lalchhuangkima tarlan danin, Khawzawl District chu Mizorama District thar 3 zinga pakhat niin, August ni 12, 2019 khan siam a ni a. District Hqrs Khawzawl chu Aizawl a?anga km 152 a hlaah a awm a, Sq km 1164.93 a zau niin, Village Council 38 a awm mek a ni. Khawpui urban town 3 leh thingtlang rural village 26 a awm a, 2011 census tarlan danin mihring 36,381, sex ratio hmeichhia 100 zela mipa 102.5 awm anga chhut a ni a, April ni 1,2021 a chhinchhiah anih danin literacy rate chu 96.64% a ni.
Jal Jeewan Mission (JJM) kaltlangin District chhung khaw 21 a chhungkaw 4,314 te tui connection pek tum niin, 3,668 te tui connection pek fel tawh an ni a. PMAY (Urban) hnuaiah khawpui a cheng mahni puala chenna neilo/ insak tanpuina dawng tur chhungkua 2,045 (First DPR- 1,105 & Second DPR – 940) te thlan niin, First DPR kalpui mek a ni a, Second DPR atan sanction hmuh a la ni lo. PMAY (Rural) hnuaiah hamthatna dawng 719 an awm a. SPMRM kaltlangin khaw 13 ahte hmalak a ni a, hna 90% dawn zawh tawh a ni. Job Card nei 8,699 te tan financial year kal mekah inhlawhna ni 66 siam a ni tawh a. Household Composed Pit 700 siam niin, District chhungah Self Help Group (SHG) 390, Village Organization (VO) 29, Cluster Level Federation (CLF) 5 a awm mek a; Sipai Lui SHG chu kum 2022 chhunga Mizorama SHG tha bera thlan a ni. District Hospital-ah Golden Card nei damlo enkawl mi 644 an awm tling tawh a. 2022-2023 chhungin Khawzawl District-ah PMGSY kawng 7 siam niin, heng zinga 3 te hi zawhfel tawh a ni. PM Kisan hamthatna dawng thei loneitu 2,674 an awm a, NABARD fund hmangin nizung chakna hmanga tuilakna khaw 7 chawm tur zawhfel niin, hengte hian mihring 10,118, district chhung thingtlanga cheng 53.52% dawn a chawm a ni. Kumin March thlaa zawh hman tura beisei North East India-a Solar Park Project lian ber Mega Watt 20 pe chhuak thei tur Vankal Solar Park pawh Jawahar Lal Nehru National Solar Mission hnuaiah thawh mek zel a ni bawk.
Khawzawl District chhunga Tomato chingtu chhungkua 428 ten kum kalta khan Grade A tomato quintal 16,700, Grade B tomato quintal 1,720 tharin Rs 7,12,50,000/- an lei a. Tualte chu Mizorama tomato thar chhuak tam ber niin, kum kalta khan chhungkua 223 ten tomato quintal 15,200 tharin cheng nuai 590 dawn an lei tling a ni. Kum kalta chhung vêk khan District chhunga khaw 7 ten Lakhuihthei quintal 18,090 tharin cheng nuai 216.9 an lei a; State pawna quintal 1,420 an thawn bakah ram pawn UAE leh Qatar-ahte quintal 10 an thawn chhuak bawk. District chhungah Bank branch 7 awm mekin, Financial Literacy Camp tum 33 an huaihawt a; hemi kaltlang hian mi 2,331 te bank hnathawh leh chhawr tangkai dante zirtir an ni a. December 2022 quarter tawp thleng khan Bank-a pawisa dahluh leh lakchhuah inthauhna Credit Deposit (CD) ratio chu 71.90% a ni.
Khawzawl DC Office chuan Government Online Excellence Award 2021-2022 kaltlangin Official Website Category-ah Mizoram puma titha ber lawmman 3-na a dawng a. Mizoram Cleanliness Competition 2022 Category II (District Hqrs) ah Khawzawl chuan pakhatna dinhmun a hauh a. Khawzawl Dinthar VC chuan Village Council tha ber Best Village Council (District Hqrs) lawmman a dawng a, Category III (Urban Towns) zinga fai ber pahnihna dinhmun Biate-in a hauh bawk.
Khawzawl District Superintendent of Police Pu Lalchhuanthanga pawhin Khawzawl District venhimna dinhmun hrang hrang sawifiahna hun a nei a. SP Report-ah hian Khawzawl District Police chungchang tawi fel takin sawi lan a ni a. Khawzawl District-a thubuai thlen dan (Crime kum thum chhunga mi tar lan a ni. Khawzawl District-a Arecanut Check Post hmalakna hrang hrang te sawi a ni bawk. NCORD Khawzawl District hnuaia hma lak tawhna School hrang hrang a Drug Awareness leh Signature Campaign te pawh tar lan tel a ni. Dan phal loh, Kuhva ro, Kuhva hring, Fertilizer leh ruihhlo chi hrang hrang man zat te sawi lan a ni. Khawzawl District Police hmalakna tura ruahmanna an neih ang angte thlir ho a ni bawk.
District Bawrhsap Pu C.C. Lalchhuangkima chuan lawmthu sawiin Governor leh Official-te inkawmna hun hi khar a ni.
Hemi hnu hian Governor chuan a hran te tein Tlawmngai pawl hruaitute, Political party aiawhte leh Kohhran hruaitute a kawm chhunzawm nghal a ni.
DC Complex chhunga official program neih zawh hnuah Governor chuan khawpuia chengte tana insak tanpuina scheme, Pradhan Mantri Awas Yojana (PMAY – U)- Housing for All (HFA) Urban hnuaia hamthatna dawngtu, a tlawh a; scheme awmzia leh tangkainate a sawifiah a, an hmuh dan leh chhawr tangkai dante a zawt nghal bawk.
Written by: Malsawmsanga, MIS, PRO to Governor