Vice President of India Shri M Venkaiah Naidu addresses Mizoram Legislative Assembly on his second day of Mizoram visit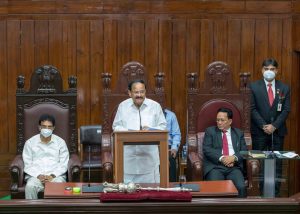 Aizawl, the 10th March 2022 : Vice President of India, Shri M Venkaiah Naidu today addressed the legislators of Mizoram Legislative Assembly at 10 :30 am at the Assembly House at a Special Session as a part of the ongoing Budget which concluded today.
The Vice President of India started his speech in Mizo saying 'Chibai vek ula, in bula ka awm hi ka lawm em em a ni' which meant 'greetings to everyone, I am extremely pleased to be amongst you'; which was applauded by all Members of the House. In his 30 minute address, the Vice President congratulated the Mizoram Legislative Assembly on completion of 50 years, which coincides with the country's Azadi Ka Amrit Mahotsav to celebrate India's remarkable progress on its democratic journey of 75 years. He expressed his admiration at the way Mizoram has deepened the country's democratic roots by peaceful electoral processes, graceful conduct of legislators in the Assembly and sustained, inclusive development endeavour over the last five decades.
The Vice President while noting that the sessions of the House are conducted with utmost discipline, diligence and decorum congratulated the Members in setting a high benchmark that other state legislatures and even the Parliament can emulate. He also mentioned that Mizoram had exemplified the essential dimension of democracy in its recognition of making development people-centric and empowering people to become active agents of positive change.
Speaking on the landmark Memorandum of Settlement between the Government of India, the Government of Mizoram and the Mizo National Front in 1986 which ended more than two decades of unrest and strife, he said "Mizoram has demonstrated the power of dialogue and peaceful settlement of disputes so essential in a democracy. The signing of the historic this Peace Accord has served as an example upon which similar peace agreements have become a reality in other parts of the North Eastern region".
He lauded the state's initiative in strengthening grass-root level democracy also the role the harmonious environment with the active involvement of the Church, the non-governmental organizations and the civil society under which regular elections have been held in the State at all levels in the most peaceful manner. He said this is truly a tribute to the character of the people determined to enhance the quality of our country's democratic ethos.
Speaking about the strengths and possibilities of the North Eastern region and the immense collective potential it possesses he said "Truly, the eight states – Ashta Lakshmi as some have called them- are the pride of our great nation. Noting the strategic importance of Mizoram in the north-eastern corner the he said "Within the renewed Act East Policy of the Government of India, Mizoram is set to occupy the centre stage as it will serve as the all-important gateway of South East Asian economies into the region as well as into the country".
In his speech, the Vice President touched upon the effective handling of the Covid-19 pandemic by Mizoram; the remarkable improvement of Mizoram's Sustainable Development Goals Index from the 21st position to its current 12th position; Mizoram's impressive track record which has has enabled it to draw upon a substantial support from the Union Government and various agencies for its developmental endeavours.
He emphasized the crucial importance of physical infrastructure, particularly transport infrastructure, as a key prerequisite for economic development and lauded the efforts of the state government in this regard. He urged the state government give more impetus to agriculture and allied activities like horticulture and floriculture and encourage sustainable agricultural practices.
Speaking about the representation of women in the Legislative Assemblies of the North-Eastern States he said "While the Assemblies of Mizoram and Nagaland do not have any women Members, it ranged from two in case of Manipur to five in the Tripura Legislative Assembly. Of the total 498 Members in the eight Legislative Assemblies of the region, there are only 20 women Members constituting only 4%. There is a strong case for involving more women Members in the law making in the region; even in the Parliament women constitutes only about 11%", he added.
The Vice President ended his speech calling upon the people of Mizoram to work as Team India, capitalizing on each other's strengths with the ultimate aim of transforming the lives of our people in this region as well as the country as a whole.
The Governor Dr. Hari Babu Kambhampati; the Chief Minister Pu Zoramthanga; the Speaker of the Assembly Pu Lalrinliana Sailo; the Deputy Chief Minister Pu Tawnluia; Ministers and MLAs attended the Vice President's address. The Chief Minister was invited at the end by the Speaker to thank the Vice President for his address.
(The full text of the Vice President of India's address given at the Mizoram Legislative Assembly is uploaded on the English Speech section of the website)
https://dipr.mizoram.gov.in/post/address-of-honble-vice-president-of-india-shri-m-venkaiah-naidu-to-the-legislative-assembly-of-mizoram-aizawl-on-10th-march-2022
Written by: Pratap Chhetri, MIS, Deputy 
---
VICE PRESIDENT IN ASSEMBLY HOUSE SESSION AH THU SAWI (Mizo)
Aizawl the 10th March, 2022: Mizoram Legislative Assembly pariatna Session vawi kua na chu vawiin hian a tiak dawn ta a. Mizorama cham mek Vice President Pu M. Venkaiah Naidu chuan chawhma session ah thu a sawi a. Governor Hari Babu Kambhampati pawh he hunah hian a tel a ni.
House Speaker Pu Lalrinliana Sailo chuan Vice-President lawmna thu a sawi hnu ah Pu Venkaiah Naidu chuan Assembly hmaah chuan thu a sawi a.
Vice President chuan Mizoram Legislative Assembly session a thu a sawi thei chu lawmawm tiin, kumin May thlaah Mizoram Legislative Assembly kum 50-na lawm a ni dawn tih a lo hriatpui thu leh a lawmpui thu a sawi a. India ramin zalenna a sual chhuah kum 75-na lawma Azadi ka Amrit Mahotsav a kalpui mek leh, Mizoram Legislative Assembly kum 50-na chuan India rama democracy ropuina leh hmasawnna a lantir thu a sawi. Vice President chuan Legislative Assembly chu mipui hmasawnna atan tha ber ngaihtuah a sawihona hmun tur a nih avangin tullo leh awmze neilo a inhnialbuaina emaw intihbuaina hmun tur a nih loh thu a sawi a. Hemi kawngah hian Mizoram Legislative Assembly chu entawntlak tak nia a hriat thu a sawi.
Vice President chuan Mizoram state inrelbawlnaah local/ village level inrelbawlna ngaihpawimawh a ni chu lawmawm a tih thu a sawi bawk a. Inthlan nikhuaah kohhran leh tlawmngai pawlte'n thahnemngai taka tawiawm a, inthlan muanawm tak a awm theih nan a chanvo pawimawh tak chelh thin chu fakawm a ti a. COVID-19 hrileng do kawnga sawrkar leh mipui tawngrual taka an thawhhona te chu fakawm a ti bawk.
Pu M. Venkaiah Naidu chuan Sustainable Development Goals (SDG) India Index 2021 a Mizoram chu kum 2019-20 a rank 21-na a nih atanga kum 2020-21 Index ah rank 12-naa a invawrh chho chu lawmawm a tih thu a sawi. Hmasawnna atana inkalpawhna (transport infrsastructure) tihhmasawn ngaihpawimawh a ni chu lawmawm a ti a. Kuthnathawktute tihmasawn leh chawisang tura Agriculture leh Horticulture kawnga state in hma a lakna te, Tourism leh industry tihhmasawn tura hma a lakna chu fakawm tiin, state hmalakna pui SEDP-in mipui dah pawimawh hmasa a hmalak a ni chu lawmawm a tih thu a sawi, Hmasawnna hna thawh leh hmalaknate reng reng hi tun amite tan chauh nilo, kan tu leh fate chanvo tur tichhe lova, an tana ram tha leh nuam kan siam zel theihna tur zawnga kalpui tur a nih thu leh, mi harsa ber te chawikanna tur hawi zawnga kalpui a nih tur thu a sawi.
State hmasawnna atan state leh central sawrkar chu inhnaih taka thawk dun tlat tur a nih thu sawiin Vice-President chuan Mizoram tan pawh tu hnaiah Prime Minister's Development Initiative for North-East (PM-DevINE) Scheme hnuaiah Rs. 600 crores dah a nih thu a sawi a. India hmarchhak state-te hmasawnna sawrkar laipuiin a ngaihtuah thu a sawi rualin, heng state ten an Legislative Assembly ah hmeichhe member tam zawk an neih chu pawimawh a ti a. Tun dinhmunah parliament ah pawh 11% chauh hmeichhia an nih thu a sawi. Vice President chuan mahni pianpui tawng ngaihpawimawh nachang hriat chu tul a tih thu a sawi tel a. Tawng hrang hrang a tam thei ang ber thiam tum chu tha a tih rualin, chumi hma chuan mahni tawngah kan chian a, kan chawilar thiam hmasak a pawimawh a ni, a ti.
Vice President-in thu a sawi zawh hian House Leader Chief Minister Pu Zoramthanga chuan lawmthu sawina a nei a. State buai ber te zing ami ni thin kha tunah chuan state ralmuang ber Mizoram chu a nih tak thu leh, vawiin thlenga Assembly rorelna boruak tha tak neih thin a nih chhan pawh he state ralmuanna in a ken tel thil a nih thu a sawi a. State dangte tan pawh he remna leh muanna hi entawntlak a nih ngei a beisei thu a sawi a ni.
Vice President Pu Venkaiah Naidu hian naktukah Mizoram a chhuahsan dawn a ni.
Written by: Emily Lalrinpuii, MIS, PIO to Chief Minister