Governor Dr Hari Babu Kambhampati holds a joint meeting of Fisheries Department and Bankers to discuss assistance to fish farmers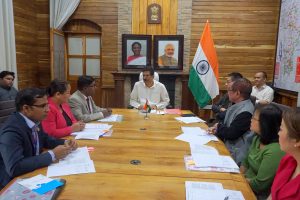 Aizawl, the 19th May 2023: Governor Dr Hari Babu Kambhampati, in his continuing effort to boost Blue Economy in the state, held a joint meeting of the officials of the Fisheries Department and the head representatives of top banks in Mizoram at the Raj Bhavan, today. In this meeting, Governor discussed with the two parties how initiatives started with the assistance of PM Matsya Sampada Yojana(PMMSY) could be supplemented and put into operation by loan assistance of the farmers from the Banks.
At the outset, Governor cited the vast potential area in Mizoram for fish farming activities which are yet to be developed, as it was reflected in the report of the Fisheries Department, with whom he had held a meeting in the recent past. He shared that the state domestic fish production per annum is only 30% (approx) of its required fish demand in a year. He suggested by filling this gap through the increase in farming areas, setting up of ice plants, introductions of insulated vans and other requirements to increase domestic fish production, the farmers will earn vast amounts of income and also generate significant revenue for the state exchequer. To achieve this target, Governor Dr Hari Babu Kambhampati suggested the intervention of the banks in financing the farmers with the technical support, supervision, planning and monitoring from the state's Fisheries Department. In this connection, he urged the two parties to work out a feasible action plan as soon as possible.
The Fisheries Department was headed by a team of concerned officials led by Pu Laldawngliana, Secretary in this meeting. While, the banks were represented by Pu V.Jayachandra, Chairman, Mizoram Rural Bank, Pi T.Lalmuanpui, Chairperson, Mizoram Cooperative Apex Bank and Pu Rakesh Ravi, Regional Manager, State Bank of India, Mizoram. Each group tabled out their proposals and suggestions in the meeting. They also agreed to follow up this consultation through official communications, joint monitoring, an awareness campaign and other required actions.
Written by: Malsawmsanga, MIS, PRO to Governor