Governor felicitates Pushpak Chief Engineer in recognition of achievement in Border Roads Construction works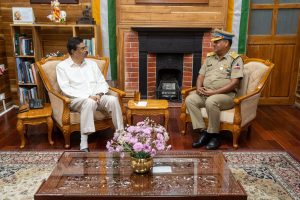 Aizawl, the 8th September 2023: Governor Dr. Hari Babu Kambhampati felicitated Shri S.P. Kolipey, CE (P) Pushpak, with the prestigious Governor's Special Medal at the Raj Bhavan, today.
The important gesture of the Head of the state is an acknowledgment of the outstanding efforts in road construction and the transformative impact, unwavering commitment to connecting remote areas of Mizoram and bolstering the state's economic well-being and improving the lives of the people in Mizoram by Project Pushpak of BRO.
This accolade acknowledged that Project Pushpak of BRO has played a pivotal role in connecting far-flung areas of Mizoram, reducing isolation, and fostering social cohesion. It has significantly improved accessibility to hilly terrains and previously underserved regions, thus enhancing the overall quality of life for the people of Mizoram.
By enhancing connectivity, Project Pushpak has catalyzed economic growth and strengthened the financial stature of the people in the state, especially those who live in border and remote areas. The improved infrastructure has facilitated trade and commerce, empowering local communities to thrive economically.
BRO continues to prove instrumental in progress in Mizoram. Dedication, perseverance, and inclusive development are a testament to the collaborative efforts of the entire "Team Pushpak".
Project Pushpak proudly stated their gratefulness for this recognition, which motivates the entire "Team Pushpak" to continue our work in empowering communities and contributing to the prosperity of Mizoram.
The Project Pushpak expressed heartfelt gratitude to the Governor of Mizoram for this esteemed honor. Project Pushpak also expressed thanks to the people of Mizoram for their trust and cooperation throughout this journey.
In celebration of this recognition, Team Pushpak reiterated its commitment to the development of Mizoram and forward to contributing further to the state's growth and prosperity.
Written by: Malsawmsanga, MIS, Deputy Director