Governor Hari Babu Kambhampati addresses the 11th Session of the 8th Legislative Assembly of Mizoram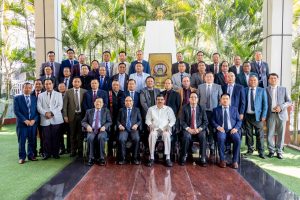 Aizawl, the 07th February 2023: Governor Hari Babu Kambhampati addressed the Eleventh Session of the Eighth Legislative Assembly of Mizoram, today. The session will conclude on the 15th of February 2023. In this session, the Supplementary Demand for Grants for the year 2022 – 2023 and the Demand for Grants for 2023-2024 will be presented.
In his address to the august house, Governor Hari Babu Kambhampati extended his warm greeting to the Legislators and his best wishes and New Year greetings to the people of Mizoram. He invited the august Assembly to witness his Government's commitment to providing an efficient, responsive and accountable administration at all levels of governance. He also gave acknowledgement that various progress and developments, as well as the maintenance of peace and harmony, are being achieved by his Government.
Governor Hari Babu Kambhampati also stated that his government would continue to accord the highest priority to ensure social and economic justice by prioritising developmental activities with a view to ensuring prosperity and economic upliftment of the people. He hoped that deliberations in the House will help achieve this objective.
The Governor then proceeded to give a policy address by highlighting some of the notable achievements made under his government during the ongoing financial year as shown below in the link: dipr.mizoram.gov.in/post/address-of-the-honourable-governor-of-mizoram-dr-hari-babu-kambhampati-to-the-eleventh-session-of-the-eighth-legislative-assembly-of-mizoram-on-7th-february-2023.
Written by: Malsawmsanga, MIS, PRO to Governor