Governor Hari Babu Kambhampati unveils Tetra Pak's paper-recycled benches at Raj Bhavan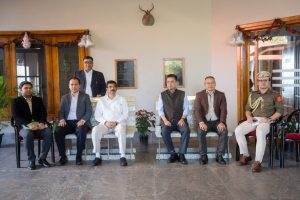 Aizawl, the 6th December 2022: Governor Hari Babu Kambhampati unveiled the benches made of paper-based recyclable Tetra Pak cartons at the main entry of Governor's Residential building, Raj Bhavan, Mizoram this morning.
At the unveiling program, Governor Hari Babu Kambhampati briefly spoke about India's commitment to the realization of SDG goals and the LIFE Campaign at COP 27. He stressed the importance of the youth of today playing a pivotal role in adopting responsible consumption patterns. He also cited the commitment of India in minimizing waste and recycling the waste to achieve the vision of becoming a circular economy. Governor also shared his optimism about India's presidency in G20. He believed that under India's leadership the climate will be one of the focus areas amongst other important things. In this connection, he urged everyone to embrace the lifestyle choices that are pro-planet. He also stressed the need to educate every citizen about the importance of maximizing resources, minimizing waste, and recycling waste to help India achieve the vision of becoming a green economy.
Tetra Pak is a world-leading food processing and packaging solutions company, originating in Sweden. Tetra Pak believes in responsible industry leadership and a sustainable approach to business. Shri Himanshu Priyadarshi – Head of Public Affairs and Government Relations- South Asia Tetra Pak was the representative of the company at the unveiling program this morning.
As per a report given by Tetra Pak officials, The benches are crafted from composite sheets made of recycled post-consumption beverage cartons. These benches are very sturdy, water-resistant (not waterproof) as well as termite and pest-proof. The company official also cited the program is organized to create awareness about the sustainability and recyclability of the beverage cartons, so that it should not go in the litters and landfill.
Written by: Malsawmsanga, MIS, PRO to Governor
---
Raj Bhavanah Lehkha khawng bawm chhia atanga siam thutthleng khuhhawnna nei (Mizo)
Aizawl, the 6th December 2022: Chawhma khan Raj Bhavan a Governor chenna building kawtah lehkha khawng bawm chhia lakkhawm hmanga thutthleng Tetra Pak in a siam khuhhawnna neih a ni a. He hun hi Governor Hari Babu Kambhampati chuan a hmanpui a. He hunah hian lehkha chhia hman tangkai chungchanga pawimawh a tih zawng te sawina hun a hmang nghal bawk a ni.
Governor chuan Lehkha khawng bawm chhia lakkhawm hmanga Thutthleng tangkai taka siam a ni chu bawlhlawh sawngbawlna kawngah hmasawnna a nih bakah environment chhe zel tur venna atana hmalakna pawimawh tak a ni a ti. India ram chu SDG thil tihlawhtling turin tan a la mek zel a; COP 27 a LIFE Campaign thil tum pawh tih hlawhtlin a tum tih a sawi a. India ram chuan bawlhlawh siam tlem leh bawlhlawh sawngbawlna uar zela Green Economy nih a tum a ti.
India ram chuan President chair changing G-20 a hruai dawn a; G-20 ram te hian Climate chungchang an ngaipawimawh tur a ni bawk nen India ram chuan sik leh sa leh kan chhehvel tuamtu boruak chhe mek zel siam that kawngah hian nasa zawka tanlak a tum chho mek a ti a. Khua leh tui zawng zawng te, a bikin thalai te chu kan nitin khawsaknaah kan chenna leilung ti chhe thei thil te uar lo telh telh turin kan insawm a ni a ti.
Himanshu Priyadarshi – Head of Public Affairs and Government Relations- South Asia Tetra Pak in report a pek dan chuan heng thuthleng te hi lehkha khawng, bawnghnute, theitui leh thildangte funna chhia paih tawh, lakkhawm atanga siam a ni a. Heng thutthleng te hi a nghet tha viau a, enge maw chen ruah a do thei a, tlumpi leh rannung te lakah a him tawk niin a sawi. Tetra Pak in Raj Bhavan-ah program an rawn hman chhan chu hetiang thiamna hi Mizoramin a hman tangkai an beisei thu leh bawlhlawh recycled theih te chu bawlhlawh paihna hmunah paih a nih mai loa tangkai taka hman theih a nih dan te mipui zirtir a ni a ti.
Written by: Malsawmsanga, MIS, PRO to Governor