Governor Hari Babu Kambhampati visits Champhai District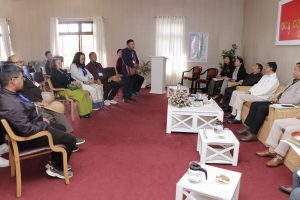 Champhai, the 1st February 2023: Governor Hari Babu Kambhampati arrived at Champhai town this morning for a two-day official trip. Pu T.J. Lalnuntluanga, Forest Minister and a constituent MLA gave him company on this visit. The first of the Governor's itinerary was interaction with the head of offices in the District at DC's Conference Hall, Champhai. After the interaction with the officials, Governor had interviews with the leaders from the Church organizations, NGOs and Political Parties.
The official function at DC's Conference Hall, Champhai began with a welcome address by Pu James Lalrinchhana, Deputy Commissioner of Champhai District. After a self-introduction from the district head of offices, Pu Lalrinpuia Varte, Superintendent of Police Champhai gave a presentation on the Security Scenarios of Champhai District. This was followed by a PowerPoint presentation on the Champhai District profile by Deputy Commissioner.
Governor Hari Babu Kambhampati thanked the Deputy Commissioner and the Superintendent of Police for detailed presentations on the district profile and the security scenarios. He agreed that Champhai District has a unique location, climate, and scenic beauty to be transformed into both an important economic hub and a tourism hotspot. He urged all the heads of offices to continue performing to achieve targets set for them. He also insisted that the officials needed to expedite some projects with 100% from the Central government to be completed in a stipulated time frame. He explained that any delay in these kinds of projects blocked the initiation of new projects which in turn deprived the beneficiaries. He appealed to all the district officials to try harder to ensure that maximum benefits reached the maximum number of beneficiaries. He also urged the bankers and bank officials to increase their awareness campaign on various social security schemes that are available for subscription at a very low sum of money.
Pu T. J. Lalnuntluanga, Minister of State for Environment, Forest & Climate Change(EF&CC) and constituent MLA also addressed the officials on this occasion. He thanked Governor Hari Babu Kambhampati for visiting his home district and having a first-hand experience of the district and its people. He took an opportunity to request the Governor to help them in their pursuits for the establishment of MZU Eastern Campus, the promotion tourism industry, and the upgradation of the Land Customs Station at Zokhawthar to ICP.
Pu Lalrinpuia Varte, SP, Champhai District, in his presentation apprised the Governor on trans-border crime, Smuggling and reverse Smuggling of illicit drugs and dry arecanut and other contrabands, the menace of smuggling of exotic animals, an influx of Myanmar refugee issue and challenges in coping with Free Movement Regime.
Pu James Lalrinchhana, DC, Champhai District gave a detailed presentation on the district profile. The presentation focused on the salient features of the district, the progress reports of important departments implementing centrally sponsored schemes, and the potential of the district in important sectors.
As per the report of DC, Champhai, the district has an area of 3,185 SqKm with a population of, 1,25,745(2011). One of the issues faced in the district at present is hosting the increasing influx of Myanmar refugees. As of 28.1.2023, the official record has shown that there are 9751 refugees within the district. It is also reported that there are 48 villages within the FMR belt( free movement across each side of the border up to the distance of 16 KM).
The interaction program with the district officials concluded with a vote of thanks proposed by Pi Esther Leihang, SDC, Champhai.
Written by: Malsawmsanga, MIS, PRO to Governor
Mizoram Governor-In Champhai a tlawh (Mizo)
Champhai, the 1st February, 2023: Governor Hari Babu Kambhampati chuan vawiin khan ni 2 chhung cham turin Champhai a thleng a. Chawhma dar 10 atangin DC Conference Hall-ah Head of Office-te, Bank hotute, Political party hruaitute, Kohhran hruaitute leh tlawmngai pawl hruaitute nen inkawmna hun an hmang a ni. Governor hi Law & Judicial Minister Pu T.J. Lalnuntluanga, Champhai South bialtu MLA ni bawk chuan a tawiawm a ni.
Governor Pu Hari Babu Kambhampati chuan mipui hmakhua ngaia Sawrkar kaltlanga scheme pawimawh tak takte tha taka kalpui a tul thu sawiin, power supply, inbiakpawhna, insak tanpuina, inkalpawhna, eirawngbawlna gas, in tina tui in tur pek leh adangte chhawpchhuah kawngah tanlak a tul thu a sawi a. Mipuite tana hamthatna leh scheme pawimawh tak takte hun bituk chhung ngeia zawhfel hman a pawimawh thu sawiin, hna tih khaihlak leh tih khawtlai hi mipuite dikna leh chanvo palzutna a ni, a ti.
Line Department leh Bank hotute chu khua leh tuite tana duan scheme pawimawh tak takte mipuiten an hriata an chhawr tangkai ngei theihna tura zirtirna tam zawk kalpui thin turin a chah a. Scheme-te an hriat mai piah lamah ataka an chhawr tangkai ngei theihna tura hmalakpuia tih dan kawhhmuh an tul thu sawiin, bank hotute chu social security scheme Pradhan Mantri Suraksha Bima Yojana (PMSBY), Pradhan Mantri Jeevan Jyoti Bima Yojana (PMJJBY), Atal Pension Yojana (APY) te mipuiten an hmelhriata, an tangkai pui ngei theihna tura hrilhfiaha hmin tum turin a chah a ni. Heads of Offices leh Banker kalkhawmte chu Sawkar laipui leh State Sawrkar kaltlanga hmalaknate tha taka hlen chhuak thei tura taima leh rinawm taka thawk turin a chah a ni.
Law & Judicial Minister Pu T.J. Lalnuntluanga chuan Champhai tlawha Sawrkar hmalakna hrang hrangte zirchiangtu Governor chungah lawmthu a sawi a. Mizoram University Eastern Campus Champhaia dah anih theih nana tanlak pui turin a ngen a. Land Custom Station (LCS) Zokhawthar chu Integrated Check Post (ICP) a hlankai thuaia, dan mumal tak hnuaia insumdawntawnna kalpui anih theih nana a tul anga hmalak pui turin a ngen bawk a. Champhai District chu khualzin mi tam zawk hip thei tura theihna nasa tak nei anih anih thu pawh sawiin, hetiang lam hawia central sawrkara a tul angte bawhzuia hmalak pui turin a ngen nghal bawk a ni.
He hunah hian Champhai District Bawrhsap Pu James Lalrinchhana'n Champhai District mipuite aiawhin Governor Hari Babu Kambhampati lawmna thu a sawi a; Champhai District chanchin kimchang, Centrally Sponsored Scheme kalpui meka hmasawnnate, hmalakna kal mekte leh hmachhawpte powerpoint presentation hmangin a tarlang nghal bawk a. Hemi hnu hian Pu Lalrinpuia Varte, Superintendent of Police-in Champhai District venhimna kawnga police hnathawhte bakah dan leh thupek kenkawh kawnga Champhai District dinhmunte powerpoint presentation hmangin a sawifiah bawk a ni.
District Bawrhsap Pu James Lalrinchhana'n report a pek dan chuan square kilometre 3,185 a zau Champhai District-ah census tlai ber 2011 tarlan danin mipui 1,25,745 awmin, sex ratio 984, literary rate 95.91% a ni a, Electoral Roll thar berah Champhai District chhunga Assembly Constituency 3 ah voter 56,362 an awm a ni. Champhai District-ah Department hrang hrang Heads of Offices 67 an awm mek a. Nimin thlengin Champhai District-ah raltlan 9,751 an awm a, heng zinga 3,727 te hi naupang an ni. Refugee camp 34 awm mekin, mi 9,751 te profiling zawhfel niin Temporary ID mi 9,488 te pek an ni a, raltlan pualin legal awareness tum 12 neih a ni tawh bawk.
Assembly Constituency 3 hnuaia SEDP beneficiary 4,500 te hnenah tanpuina sem chhuah tawh a ni a. Champhai District Water and Sanitation Mission (DWSM) chu 3 star category hnuaiah October 2022 atan India rama district 165 zinga ti tha ber a ni. PMAY-HFA (Urban) hamthatna dawngtu 4,103 zinga 679 zawh a ni a, Mizoram bika best performing district atan January ni 19,2023 ah thlan a ni. MNREGA hnuah Sawkar kum kal mekah inhlawhna ni 72 siam a ni tawh a. Vawk hrileng African Swine Fever vanga harsatna namenlo tawh anih hnuah tun dinhmunah case report a awm lo a. Bank-te kaltlangin Financial Literacy Campaign tum 118 neih tawh a ni, hemi kaltlang hian mi 4,175 te zirtirna pek an ni a, bank-a pawisa dahluh leh loan pekchhuah inthauhna CD ratio chu December 2022 tawp quarter khan 74.56% a ni.
SP Champhai Pu Lalrinpuia Varte tarlan danin Champhai District-in Indo-Myanmar border kilometre 160 a thui a nei a. Border pillar 3; BP 26, 27 leh 28 te awmin dan lova thil tute tana awlsam taka ramri kan theihna vulnerable crossing point 23 bawr vel a awm a. Champhai District-ah Police Station 3 leh Beat Post 1 a awm bakah 2nd Assam Rifles & 42nd Assam Rifles te khaw 7 ah an awm bawk. Kum kalta 2022 chhungin Heroin kg 24.3, Methamphetamine kg 21.252, Crystal Methamphetamine kg 20, Pseudoephedrine kg 28.80, Acetone litre 6,880 te man a ni a; hemi kaihhnawihah hian case 92 ziahluh niin mi 121 man an ni. ND&PS Act hnuaia case 11% chinfel tawh niin, mi 87 te thiamloh chantir niin, midang 13 te thiam chantir an ni. Pawisa lem Rs 9,54,500 man a ni a, District Level Wildlife Crime Control Sub-Unit kaltlangin kum 2022 chhungin exotic species 742 man a ni bawk. Kum 2020-2022 chhungin foreign cigarettee case 1,560 leh kuhva rah metric ton 369.74 te man a ni. Champhai District chhunga khua 48 te Free Movement Regime (FMR) huam chhungah an awm a; hemi huama chengte tan hian Border Crossing Agreement, 2018 angin Border Pass pe chhuak tura ruahmanna neih a ni.
Pi Esther Leihang SDC, Champhaiin lawmthu sawiin Governor leh Official-te inkawmna hun hi khar a ni a. Hemi hnu hian Governor chuan a hran te tein kohhran hruaitute, political party aiawhtute leh tlawmngai pawl hruaitute a kawm chhunzawm nghal a ni.
Written by: Dr. Lallawmkima Thangluah, MIS, DIPRO – CHAMPHAI