Governor Hari Babu Kambhampati visits Zokhawthar Land Custom Station at the Indo-Myanmar border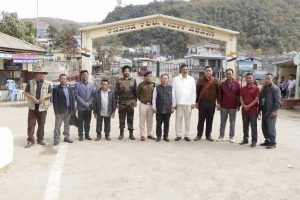 Aizawl, the 2nd February 2023: Governor Hari Babu Kambhampati visited Land Custom Station at Zokhawthar, an Indo-Myanmar border town in Champhai District. Forest Minister Pu T.J.Lalnuntluanga, an MLA of this area, accompanied Governor on this visit.
Governor and his supporting high officials first inspected the Land Customs Station building and the facilities inside the building. After this, Governor interacted with the customs official and the leaders of the Zokhawthar town community.
As per the report stated during the interaction, the Indo-Myanmar Friendship Bridge, a Bailey Bridge in existing conditions is proposed to be replaced with a bigger and reinforced bridge to handle heavier loads. Forest Minister Pu T J Lalnuntluanga, during this interaction, suggested the need for upgrading the existing LCS into ICP with more facilities. He requested the Governor to pursue the matter with the concerned ministries.
Pu James Lalrinchhana, DC, Champhai, Pu Lalrinpuia Varte, SP, Champhai, Lt Col JS Sodhi, Customs officials, Bank Officials, and other concerned officials participated in this discussion. The requirements proposed by the Village Council President of the town on Healthcare services, Bank facilities, approach road repair issues, etc, were discussed and resolved on the spot.
Written by: Malsawmsanga, MIS, Deputy Director