Governor hosts interview and dinner for students who came to Mizoram on SEIL program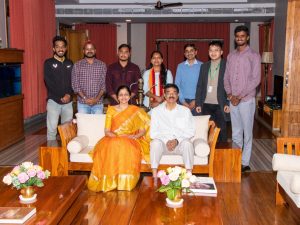 Aizawl, the 17th November 2022: Governor Hari Babu Kambhampati interacted with the students from Karnataka, Jharkhand, Delhi, Kerala, and Odisha who spent weeks in Mizoram on the Students' Experience in Inter-State Living(SEIL) at the Raj Bhavan, last night. He also hosted dinner for them afterward.
Governor Hari Babu Kambhampati congratulated the students from other states who had stayed with their host families in Aizawl, Kolasib, Lawngtlai, Lunglei, and Mamit districts to get acquainted with cultural and social life in various parts of Mizoram. He appreciated the enthusiasm shown by these young students, who visited Northeast for the first time, in their positive participation in the national integration exercise. He also urged them to take back with them the good experience.
SEILS Students in their interaction with the Governor share their interesting experiences, some of them are completely different from what they practice daily in their households and communities. There were a lot of interesting reports from the students on food habits, nightlife, entertainment, working hours, languages, and so on. Even though they felt somewhat of a culture shock initially, most of them admitted how easily and close they bonded with their hosts and communities after spending a few days. From their experience, they shared their surprise that differences in language did not hamper how they communicate with their hosts. They shared with Governor that these experiences courtesy of SEILS would change how they perceive about people of the Northeast and their wonderful culture. They also recommended and encouraged the youth of Mizoram to venture out more and more into different parts of India.
Written by: Malsawmsanga, MIS, Deputy Director