Governor in Mizorama Internet Connectivity tih hmasawn chungchangaah BSNL leh BBNL hotute kawm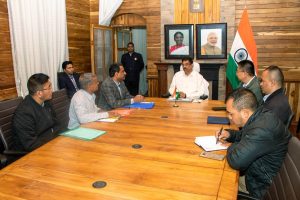 Aizawl, the 30th January 2023: Vawiin chawhma khan Governor Hari Babu Kambhampati chuan Bharat Sanchar Nigam Ltd(BSNL) leh Bharat Broadband Network Ltd(BBNL) hotute a kawm a. He hunah hian Mizoram hmun kilkhawr zawkah te Internet Connectivity a awm vek theih na tura BSNL hmalakna leh internet data chak zawka inpekna hrui, Fibre To The Home(FTTH) thlun hna thawk mek tu BBNL hmalak mek leh an thlen chin te sawiho a ni.
Governor Hari Babu Kambhampati chuan BSNL leh BBNL hotute chu sawrkar telecom provider an nih angin hlawkna um lutuk lova, service tha zawk, technology tunlai zawk te Mizoram hmun kil zawka cheng te tana chhawp turin a ngen a. An hmalakna tawhnaah lawmthu sawiin tunah chuan private Company ten telecom service an pek ve tawh avangin BSNL leh BBNL te pawhin tan an lak nasat a ngai a ni a ti. Siaha leh Lawngtlai district bikah te Internet leh phone network connectivity a chhe zual a, bank lam tan pawh hnathawh ngaihna a awm lo a. Hei hi Bank mamawhtu mipui ten an tuar rei tawh a, heng hmunah te hian BSNL leh BBNL tan la zual se, Fibre hmanga internet chak chi pek leh 4G tower kaltlanga 4G internet service te pekchhuak kawngah te hmalak ran a ngai tih a sawi a ni. 4G saturation program hnuaia 4G connectivity awmlohna hmun zawng zawnga 4G service pek tura BSNL in hma a lakna chu Governor chuan tha a tih thu a sawi a. Kawngpui awmlohna hmun tlem a zawngah te tower sakna bungraw lakluh a harsatna hmun te a awm tih a hriat thu sawiin heng hmunah te hian Helicopter hmanga Bungraw thliarluh dan dap turin thurawn a pe bawk a ni.
BSNL hmalakna hrang hrang te hia Power Point Presentation hmangin Pu Arun Kumar, GM, BSNL leh Pu C.Lalawmpuia, AGM, BSNL ten an pe a. BBNL hmalakna te chu Pu Rameshwar Prasad, DyGM/Consultant, BBNL in a sawifiah thung a ni.
Written by: Malsawmsanga, MIS, PRO to Governor