Governor leh sawrkar hotulu ten Armed Forces Flag Day pualin thawhlawm thawh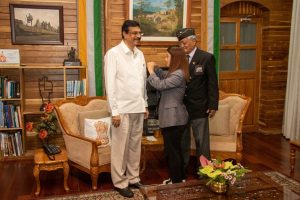 Aizawl, the 7th December 2022: Vawiin khan Armed Forces Flag Day 2022 pualin Governor Hari Babu Kambhampati, Chief Minister Pu Zoramthanga leh Speaker Pu Lalrinliana Sailo bakah Sorkar hotulu ten tanpuina sumfai an thawh.
Chief Minister hi Delhi lamah official program a neih avangin Secretary to CM in Sainik hotute leh Ex-Servicemen hotute hi a lo dawngsawng a ni.
Vawiin hi Armed Forces Flag Day a ni a. He ni pawimawh tak pual hian Ex-Servicemen zinga tanpui ngai, Martar chhungkua leh sipai nupui, an pasalte thihsan tak te chhawmdawl ngai te pualin vehbur khawn thin a ni.
Written by: Malsawmsanga, MIS, PRO to Governor