Governor Meets Aizawl Customs Division Officials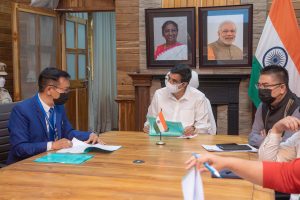 Aizawl the 19th October, 2022: Mizoram Governor Shri Hari Babu Kambhampati met officials from the Customs Division, GoI, Aizawl at the Raj Bhavan today.
Shri H. L. Songate, Asst Commissioner, Customs Division apprised the Governor of the current activities of their department within Mizoram and said that shortage of manpower and inadequacy of warehouses continued to hamper their efficiency in checking inflow of goods from across the border with Myamar and Bangladesh. He informed the Governor that wifi connection, ICES mapping of officers and authorisation of Bank had been completed at Zokhawthar LCS, that talks were on with Postal Office, Aizawl to establish a Foreign Post Office in the near future and added that establishment of Land Customs Station at Lawngtlai Silsury could hugely help in better monitoring of border trade. He also said that vulnerable areas from anti smuggling point of view were the following villages under Champhai CPF jurisdiction, ie. Zokhawthar, Hnahlan, Vapar, Ngur, Zote, Tlangsam, Farkawn, Sesih, Vangchhia and Vaphai.
On his part, Governor Hari Babu Kambhampati assured the Customs officials that he would readily support them in mitigating various problems being faced by them and requested them to submit in writing any complaints they had or assistance they required.
Written by: Mina Zoliani, MIS, Deputy Director
---
Governor Leh Aizawl Customs Division Hotute Inkawm (Mizo)
Aizawl the 19th October, 2022: Customs Division, Aizawl hotute chuan vawiin chawhma khan Raj Bhavan-ah Governor Pu Hari Babu Kambhampati an hmu a. Customs Asst. Commissioner Pu H. L. Songate hovin Customs Inspector pahnih – Pu T. Paukhochin leh Pu Vipul Rathore ten Mizoram bik chhunga sorkar laipui hnuaia Customs Division hnathawh dan tlangpuite, an hmalakna leh harsatna hrang hrangte chu power presentation nen Governor hnenah hian an report a ni.
Asst Commissioner, Customs Division Pu H. L. Songate chuan an hnathawh pawimawh ber chu India ramriah him taka insumdawntawnna vil leh dan phalloh thilte luh loh nan venhimna hna thawh a ni tih sawiin officer leh staff an indaih loh vang erawh chuan duh angin hma an lak chak theih lo thu Governor a hrilh bawk. Ramriah dan phalloh thil tawlhruk (smuggling) bungrua an mankhawm chi hrang hrang dahthatna tur hmun (warehouse) an neih that loh avangin harsatna an tawk nasa thin tih a sawi bawk. Foreign Post Office dinna turin Postal Office, Aizawl hotute nen indawr mek thu te, Lawngtlai Silsury-ah Customs Office hawn a tul thu te, Zokhawthar Land Customs Station-ah wifi connection, ICES mapping, bank authorisation te tihfel a nih tawh thu a tarlang a. Dan lova bungrua tawlhrukte hrek (anti-smugglig operation) theih tur chuan heng hmun – Zokhawthar, Hnahlan, Vapar, Ngur, Zote, Tlangsam, Farkawn, Sesih, Vangchhia leh Vaphai – ah tun aia khauh zawka vil a tul thu a sawi bawk a ni.
Governor Hari Babu Kambhampati chuan Mizoram-a Customs Division ten harsatna tam tak karah theihtawp an chhuah thin avangin lawmthu a hrilh a. An hmalak zelna turah theihtawp chhuahpui zel a inhuam thu leh harsatna an neite chu a hnenah lehkha ziakin thehlut a, chu chu a theih ang anga bawhzui sak tur thu a hrilh a ni.
Written by: Mina Zoliani, MIS, Deputy Director