IGP of BSF for Mizoram and Cachar calls on Governor Hari Babu Kambhampati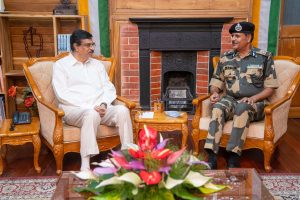 Aizawl, the 18th October 2022: Shri Binay Kumar Jha, IGP of BSF(Mizoram & Cachar) met Governor Hari Babu Kambhampati at the Raj Bhavan today.
Shri Binay Kumar Jha, the IGP of BSF apprised Governor Hari Babu Kambhampati of the role and duties of BSF in the protection of the border area, for maintaining peace and stability in the border area and for their civil action through which they serve the locals in the area where they are posted.
Governor Hari Babu Kambhampati thanked the IGP, his staff officers, and the BSF jawans for their dedication and devotion to their duties. He pointed out several areas where he felt the 131 Bn BSF performed exemplarily well. He also highlighted the much-appreciated humanitarian assistance performed under the leadership of KS Nautiyal, Commandant on numerous occasions. He consolidated his appreciation of the performances of the BSF in Mizoram by handing over a Letter of Appreciation to the IGP on behalf of all the ranks of 131 Bn BSF posted in Mizoram.
Written by: Malsawmsanga, MIS, Deputy Director
---
IGP of BSF (Cachar & Mizoram) in Governor Hari Babu Kambhampati hmu (Mizo)
Aizawl, the 18th October 2022: Pu Binay Kumar Jha, IGP of BSF(Mizoram & Cachar) chuan vawiin chawhma khan Raj Bhavanah Governor Hari Babu Kambhampati a hmu a.Mizoram chhung bika BSF te hnathawh tlangpui te Governor hnenah hian a report a ni.
Shri Binay Kumar Jha, IGP of BSF chuan Governor Hari Babu Kambhampati hnenah hian BSF te hnathawh pawimawh ber chu India ramri venhim hna a ni tih a sawi a. Ramri ven hna thawh bakah BSF te chuan an hun tha te an camp leh post awmna bula cheng te tih hmasawnna atan program hrang hrang siamin an hmang thin tih a sawi bawk. BSF te chuan an inkulhna bula khawtual mi te nena inlaichinna thatak an siam zel a. Thalaite hnenah pawh India ram inpumkhatna pawimawhna te sawiin Sipai a tan pawimawhna leh hamthatnate uar takin an sawi thin a ni a ti.
Governor Hari Babu Kambhampati chuan Mizoram chhim lamah leh khawthlang lamah te BSF in ramri ven hna pawimawh tak an thawk mek a. An an thawk tha hle nia a hriat thu sawiin IGP BSF hnenah hian lawmthu sawiin uluk taka ramri ven hna thawk chhunzawm turin a fuih a ni.
BSF ten an hna pawimawh ber ramri venhim hna tha taka an thawh bakah an inkulhna hmuna tualchhungmi te tih hmasawn leh tanpui kawngah an thawk tha hle tih a sawi a. 131 Bn BSF ten tanpui ngai te tanpui leh chhawmdawl ngai te chhawmdawl kawngah Pu KS Nautiyal, Commandant hovin hna an thawk tha takzet a ni a ti. IGP of BSF hnenah hian 131 Bn BSF Commandant leh a thawhpui officer leh jawan te hnathawh that lawmpuina leh hriatpuina ni pah fawmin Governor chuan Letter of Appreciation a hlan nghal bawk a ni.
Written by: Malsawmsanga, MIS, Deputy Director