Mizoram Governor Summons Special Assembly Session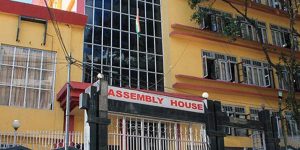 Aizawl the 21st October, 2022: Mizoram Governor Shri Hari Babu Kambhampati has summoned the Eighth Legislative Assembly of the State of Mizoram to meet for a Special Session on 4th November, 2022 (Friday) onwards at 9:30 a.m. onwards on account of the visit of the Hon'ble President of India in the Legislative Assembly House at Aizawl.
The Notification summoning the Special Session was issued by the Mizoram Legislative Assembly Secretariat yesterday, ie. 20th October, 2022 (Thursday).
Written by: Mina Zoliani, MIS, Deputy Director
---
Mizoram Governor-In Special Assembly Session Ko (Mizo)
Aizawl the 21st October, 2022 : Mizoram Governor Pu Hari Babu Kambhampati chuan India President Mizoram-ah a rawn zin dawn avangin November ni 4, 2022 (Friday) khian chawhma dar 9:00 atangin Eighth Legislative Assembly Special Session a koh thu Mizoram Legislative Assembly Secretariat chuan nimin October ni 20, 2022 (Ningani) khan Notification an chhuah a ni.
Written by: Mina Zoliani, MIS, Deputy Director