RBI Officials apprise Governor Hari Babu Kambhampati of the forthcoming Financial Literacy Week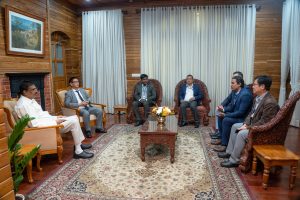 Aizawl, the 18th January 2023: Shri. P.Shimrah, Officer-in-Charge, Reserve Bank of India(RBI) Office, Aizawl, Shri V.Jayachandra, Chairman, Mizoram Rural Bank, and other RBI officers met Governor Hari Babu Kambhampati at the Raj Bhavan today. The bank officials briefed Governor about the proposed strategies to be used for Financial Literacy Week(FLW) in Mizoram. Governor was also formally invited to grace the occasion of the inaugural program of the FLW.
During the interaction with the RBI officials, Governor shared his thoughts on what needed to be done to make the general populace of the state to be financially literate and aware of the banking facilities provided with their savings bank accounts and other accounts. He urged the bankers to increase their efforts in educating their customers about various beneficial and social security schemes. He thanked the bankers' for their concerted efforts in increasing the enrollment in these social security schemes as depicted in the last SLBC report. He urged all the banking officials involved in the FLW to give their best effort during their awareness campaigns at various Financial Literacy Camps across the state to benefit as many as possible. He also suggested exposure of the college students to the lectures on a stock exchange and its related subjects during the FLW.
As per the briefings by the bank officials, FLW is being organised for one week every year since 2017. This year, FLW will be organised during February 13 – 17. The FLW to be organised this year will try to focus on every sector – from the students, and the SHGs to the farmers. Financial inclusiveness and education will be the main theme. The bankers will be entrusted to help educate the customers to promote the culture of savings and investments. The FLW will also focus on how to safeguard the public from financial fraud.
Written by: Malsawmsanga, MIS, PRO to Governor
---
RBI Official ten Governor Hari Babu Kambhampati Financial Literacy Week hman tur chungchangah hmu (Mizo)
Aizawl, the 18th January 2023: Pu. P.Shimrah, Officer-in-Charge, Reserve Bank of India(RBI) Office, Aizawl, Pu V.Jayachandra, Chairman, Mizoram Rural Bank, leh RBI officer dang ten Governor Hari Babu Kambhampati chu Raj Bhavan an hmu a. He hunah hian Bank Official te chuan February thla chawhmaah Financial Literacy Week(FLW) hman an tum dan te hrilh in Governor chu FLW hawng tur leh a hawnna inkhawmah khuallian atan an sawm nghal a ni.
RBI hotute nena an inkawmnaah hian Governor chuan Mizoramah Bank hmalakna tur a la tam thu a sawi a. Mipui nawlpuiin welfare scheme, social security scheme, loan puk theih chungchang leh an bank account kaihhnawih banking services an dawn theih tur chungchang te chiang zawk a hriat an la mamawh a. Bank hnathawk ten tan an lak chhunzawm a la ngai hle a ni a ti. Tunhnaiah SLBC report a lo thlir thu sawiin hemi report ah hian social security scheme leh welfare scheme thenkhata inziak lut an pung tih a hmuh thu a sawi a. Governor chuan he hmasawnna hi bank hnathawk te tanlakna rah a ni a. Bank hnathawk ten tan an lak chhunzawm chuan hei aia hmasawnna lian zawk hi a beiseiawm a ti.
FLW Chhunga mipuiten Bank chungchanga hre tur a duh deuh te Banker te hi a hrilh a. Loan te nau mamawhtu Aizawl khawpuiah ringawt pawh hian tam tak an awm mek a. Heng sumdawng tenau – Hawker, chawhmeh zuar leh a dang te zingah hian Rs 50,000 a tang a Rs 10,00,000/- thleng lak theih na Mudra Loan te hi an hriatchian chuan puk mamawh leh duh tam tak an awm ngei a rin thu a sawi a ni. Governor chuan thalai vengva tur deuh chin – college zirlai te hnenah te stock market leh a kaihhnawih thil te FLW chhung hian zirtir ve ni se tha a tih thu a sawi bawk.
Bank Official te report pek dan chuan FLW hi February 13 atanga 17 thleng neih a ni leh dawn a. He hunah hian Bank kaihnawih thil leh sum enkawlna chungchangah zirtirna ngawrh taka inpek tum a ni a. kumina FLW neih turaha hian Zirlaite, loneitute, Self Help Groups leh sumdawng te nau te zirtirna uluk zawka pek tum a ni. Financial inclusiveness leh Education tih thupui hnuaiah kawng hrang hrangah sum vawm dan, bank services chungchang leh a dang te zirtirna pek tum a ni a. FLW chhung hian Bank Official te chuan sum peipun dan leh sum khawl dan awmze nei zawk customer te hriattir an tum dawn a. Sum leh Bank account kaihhnawih a bumna chi hrang hrang lak a customer leh mipui nawlpui an lo him zawk dan tur chungchang pawh a zau thei ang bera inzirtir tum a ni.
Written by: Malsawmsanga, MIS, PRO to Governor